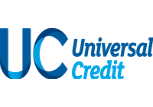 Universal Credit is a payment to help people in Bolton with living costs and is paid monthly. People can access this if they are on low income or out of work. It excludes anyone who is pension credit qualifying age.
This new system is currently being introduced in stages across the United Kingdom until March 2019.
Universal Credit Full Service for new claims will be introduced in Bolton from 7th November 2018, and those people who are already on Universal Credit Live service or already receiving benefits then they will be contacted and asked to make a claim to Full Service from 14th November 2018. It is important that people make these claims at the right time so their payment cycle is not disrupted.
For those currently on benefits Universal Credit will replace the following:
Child Tax Credit

Housing Benefit

Income Support

Income-based Jobseeker's Allowance (JSA)

Income-related Employment and Support Allowance (ESA)

Working Tax Credit
If someone is currently receiving any of these benefits, they cannot claim Universal Credit at the same time. People do not need to do anything until they hear from the Department for Work and Pensions (DWP) about moving to Universal Credit, unless they have a change in circumstances.
Eligible patients in Bolton will be contacted from mid-November onwards to start making the transition over.
What do people get under Universal Credit?
Universal Credit payment is made up of a standard allowance and any extra amounts that apply, for example if a person:
has children

has a disability or health condition which prevents them from working

needs help paying rent
Circumstances are assessed every month and what people are paid may change. The benefit cap may limit the total amount of benefits people receive.
How to claim
People will need to apply for Universal Credit online, and apply as a couple if living together regardless of whether they are married or not. After a person applies, they must contact Bolton Jobcentre Plus within 7 days to make an appointment with a work coach. They will not get Universal Credit if they do not attend that appointment.
At the appointment, they will need to provide the following:
Bank, building society or credit union account details

an email address

National Insurance number

Information about housing

(for example how much rent they pay)

details of income (for example payslips)

details of savings and any investments (like shares or a property that they rent out)

details of how much they pay for childcare if applying for help with childcare costs
If a person does not provide the right information when applying then it might affect when they get paid or how much they get. They will also have to verify their identity online. Some form of proof of identity will be needed for this, for example:
driving license

passport

debit or credit card
If someone needs help
They can contact the Universal Credit helpline to get help making their claim online:
Universal Credit helpline
Telephone: 0800 328 5644
Welsh language (make a claim): 0800 012 1888
Textphone: 0800 328 1344
Monday to Friday, 8:00 am until 6:00 pm
If they disagree with a decision
All decisions about a claim can be challenged but this needs to be requested within one month of the date of the decision.
This is called asking for 'mandatory reconsideration'. People can do this if any of the following apply:
they think the office dealing with the claim has made an error or missed important evidence

they disagree with the reasons for the decision

They want to have the decision looked at again
Some decisions cannot be reconsidered - it'll say this on the person's original decision letter.
Advance and hardship payments
If someone does not have enough to live on while they are waiting for first payment they can ask for an advance payment after they've made a claim.
They can also ask for a hardship payment if cannot pay for rent, heating, food or hygiene needs because they have a sanction (a sanction is when a person does not meet their responsibilities or what they've agreed in their Claimant Commitment, and therefore Universal Credit could be stopped or reduced).
They will need to pay any advance payments back through their Universal Credit payments – which will mean their payments will be lower until it's paid back.
Advice on money and debt
People can get help and advice from:
Jobcentre Plus work coach
the Money Manager tool from Money Advice Service
Shelter for help with housing and homelessness